BEFARED S.A. BIELSKO BIALA, Poland

Reducers and Motoreducers BEFARED S.A. Company is a leading manufacturer of general purpose reducers and motoreducers. We have been in business for over 130 years and have 80 years of experience in roduction of drive components. Throughout many years of its operation, BEFARED developed a series of normalised types of reducers. The devices are standardised to the extent where using a minimum of parts and accessories, a great number of applications is possible using semi-automatic machine tools and machining lines, i.e. serial production technology.BEFARED offers a series of advanced BB Line motoreducers and an H series of reducers and motoreducers, whose offer has been extended only recently. All products can be customised to fit specific customer requirements.
unselect all/select all
You have 0 products selected
Helical and bevel-helical gears series, covering 12 series from "100 "to "400" and torque 1000÷71000 Nm.
motoreducers
Send enquiry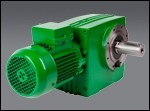 Module system, in which joint input subassemblies and output standard elements are applied. The series consists of four basic types of manufactured motoreducers: helical-coaxial, helical-bevel, helical flat, helical-worm.